Coronation of the Virgin by Jacopo di Cione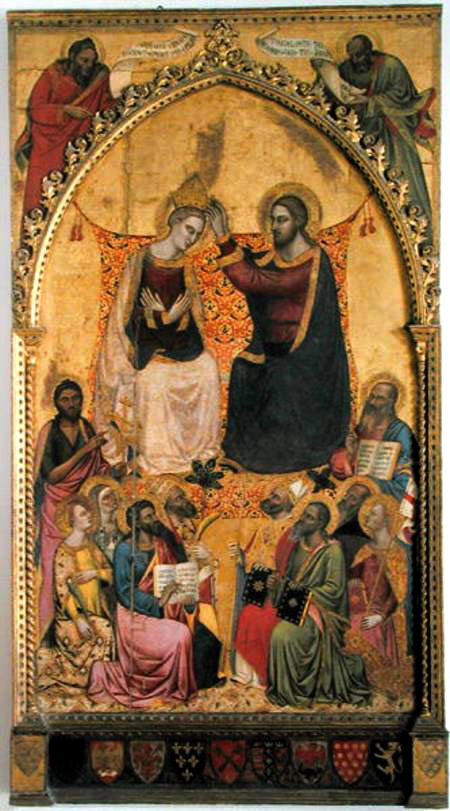 The most important and famous panel painting exposed in the hall is the "Coronation of the Virgin" by Jacopo di Cione, which has been restored in 2011. The panel was known in Florence as "Altarpiece of the Mint", and was commissioned by the magistrates of the Mint for its seat, located close to Palazzo dei Priori. The panel appears dazzling in its preciousness, from the massive presence of gold, not to mention the fabrics and drapery of the detailed figures. For the completion of the altarpiece Niccolo di Tommaso and Simone di Lapo helped Jacopo di Cione, the main author of the panel.
The artwork was completed by a precious frame, carved and adorned by stonemason Giovanni di Ambrogio, with the coats of arms of the City of Florence and powerful Florentine Guilds such as The Guild of the Merchants of textiles (Calimala), and the Guild of money changers and bankers (Cambio). One can distinguish various saint protectors of the town of Florence depicted below the main scene of the coronation: John the Baptist, Reparata, Anna recognizable by the miniature city, Zenobius first bishop of Florence, Barnabas and Victor, saints honored in Florence after military victories. In the altarpiece one can admire the patron saints of the guilds such as Saint John Evangelist (protector of the merchants of Calimala) and Saint Matthew (protector of bankers). On the lowest part of the wooden frame there are painted coats of arms (from left) of the Alberti family, Guild of Calimala, the lily of Florence, the emblem of Anjou, the Seal of Florence, the emblem of Anjou of Durazzo, of the Guelph Party, Guild of Bankers and Davanzati family. The coats of arms of the Alberti and Davanzati are due to the representatives of the guilds Calimala and Bankers in charge at the time of the execution of the painting: Bartolomeo di Carroccio Alberti (member of Calimala Guild) and Davanzato di Giovanni Davanzati (member of the Guild of Bankers).